How to monitor costs without a smart meter
Smart meters are excellent for monitoring energy costs. But not everyone has a one and it takes a while to have them installed.
Here's an example of smart meter before microwave and underfloor heating. Picture 2 is with microwave switched on. Picture 3 is with underfloor heating switched on.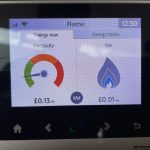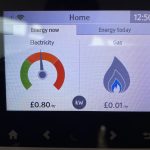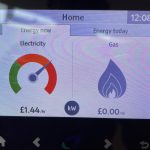 The images show the electricity cost per hour was 13 pence jumping to 80 pence when the microwave was switch on, and £1.44 when underfloor heating was switched on.
Having a smart meter shows you how much things cost so you can choose to either continue using an item or switching it off.
---
But what to do if you don't have a smart meter?
Here are two options.
1. Use our Electricity Cost Calculators based on meter readings.
You can use a period as short as one day and as long as a year (if the tariffs stay the same for the whole period).
You need opening and closing meter readings for the period covered. You also need to know your energy tariffs. These calculators work out the cost of the energy used plus standing charges plus vat.
– Standard electricity cost calculator based on meter readings
– Economy 7 electricity cost calculator based on meter readings
– Gas cost calculator based on meter readings
2. Use the "Running Cost Calculators" to see how much an individual item of equipment costs.
You enter the Wattage of the item and it'll work out the cost to run.
If you'd like to work out the cost of running an electric heater, this will provide a good cost estimate. Bear in mind, the "time used" is the time that the heater is on and actually heating.
– See Electricity Running Cost Calculator for individual items.